Remnants of Paradise
Written following my first trip to Bali, 2011. I will use excerpts for my book Sacred Places and Earthly Paradises.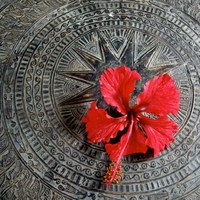 Island Fragments
it hurt too much to see clearly
litter beneath the cow's hoof
tidelines of plastic
the sad stare of a roadside beggar
thin with despair
this paradise sliding
down the vortex of its own waste
I focused on
flowers and offerings
the taste of roast pite popping from the pod
thunderheads rising
tropical rain
I brought home
fragments of beauty
this is my offering
Remnants of Paradise
Anticipating my first venture to Bali, I am filled with trepidation. Will I manage the crowds, the traffic, the toilets? I pack every conceivable tummy medicine, mosquito repellant and sunblock.
I long to see green rice fields, walk on warm sand, taste new foods. I need a holiday where my skin can breathe beneath light tropical clothing. I want to see what life is like for my brother living in another country. One with elements of our African past that delight me (thunderstorms and bougainvillea flowers) and frighten me (poverty and disease).
I arrive late at night at Denpasar airport, and sit outside the entrance on cool paving waiting for Jonathan. It is hot. In the taxi driving home through Kuta, I am pleasantly surprised by roads smaller and quieter than my imaginings.
We carry my cases down a narrow alley and upstairs to a tiny apartment. The wide balcony looks over palm trees and the warm night. I feel instantly at home.
We talk. I sleep, finally, on a mattrass on the floor under the ceiling fan, only a sarong flung over my body. A familiar heat.
I am in Bali, a small Indonesian island, some way north of Australia and a great deal north of my island home in Tasmania.
Is this the closest to the equator I have ever slept?
Bali is smaller than Tasmania, yet packed with three million people.
It is April, 2011, and I am here for four weeks. I do not know that I will escape Bali belly, fall for a bronze porcupig, and be terrified by a death threat to my brother. I do not know that I will become a hard bargainer, drink an avocado smoothie, and become constipated from an excess of rice.
I want to snorkle in clear warm tropical waters for fish. I have yet to see the murky waves of Kuta beach.
Flowers & Offerings
Bali by no means overflows with floral extravagance, but flowers add touches of colour and beauty to the larger terrain. Scarlet poinsettia and poinciana punctuate the emerald countryside, frangipani trees and bougainvillea creeper blossom against stone walls. Bursts of colour scatter the dirt and debris of urban streets, with offerings on doorsteps, shrines and tabletops. Restaurants and hotels strew stairs, bathrooms, beds and tables with fresh fragrant blooms.
The familiar perfume of frangipani and the glimpses of bougainvillea are a comfort to me and a pleasure to my eyes. Tropical foliage and flowers always take me back to times past, to my childhood in Bulawayo and the beautiful Cape, university days in Grahamstown, and to the many holidays I've spent in Darwin and Queensland. They remind me of my grandparents. They remind me of myself.
I adore the floating flower and petal patterns in bowls and fountains. Flower chains or hibiscus blooms decorate hotel reception areas. Fresh flowers and strung blossoms adorn stone buddhas and temple doorways. There's humour in the placement of tokens: a red hibiscus crowning a bronze pig; heliconia tucked behind the ear of a fierce figure with a club.
Offerings usher customers into Roy's cheerful warung for a delicious meal of nasi uduk. Offerings totter on car dashboards and motorcycles as protection on the road. Incense smoulders in cracks of tree trunks, on pavements, in hidden corners. A busy café is quieted by a serene fountain bubbling pink and red petals. Our room in Ubud's famous Honeymoon Guesthouse is scattered with creamy frangipanis, and an exquisite flower offering on the verandah's marble table.
The lotuses seem particularly Asian, and sprout in pots outside massage salons, or tower from garden ponds which they confetti with dropped petals and stamens. Outside Jonathan's apartment, purple orchids cling to a telephone pole. Flowers light my mind's eye each day I am in Bali.
Life in Legian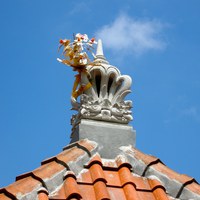 Legian is a step down from the frenetic commercialism of Kuta to the south, yet not as upmarket as Seminyak to the north. A maze of lanes edged with shops, cafés, salons and accommodation extends to the art market near the beach. Pedestrian and vehicle traffic share the streets and everyone hoots as a matter of course.
The heat is sweltering and oppressive by mid-morning. Gardens are hidden in walled-off courtyards so there's little respite unless it rains. I'm thrilled by late season thunderstorms. The air clears and the streets flood into ankle deep puddles. Wading through the filth is partly offset by the happiness of emerging frogs!
Jonathan's apartment is a welcome retreat from the busy lanes and relentless vendors. It's off Jalan Lebak Bene, down an alley which opens into a housing complex. The second-floor room is basic, but with a moderately efficient flushing toilet for which I am supremely grateful. The shower is a bucket on the floor, which Jonathan now prefers to a proper shower. On cooler days he heats water in the rice cooker to add to his bucket.
I love the wide balcony overlooking palm trees, limes, frangipani, orchids and an out-of-reach banana cluster. Squirrels frolic in fronds and scurry across rooftops. Thunderheads rise and billow in the blue sky. Children and dogs play noisily in the courtyard below. The giant spotted gecko barks and remains out of sight.
The room is sweaty at night since we keep doors and windows closed to avoid mozzie-borne diseases. The swishing fan fails to dull the pulsation of nearby discos, so my sleep is restless until the early hours when the air finally cools and quiet descends.
Transport is by walking (jalan jalan) or scooter. Jonny's rental bike has a surfboard holder for quick access to the beach. I cling tenaciously to the back of my seat as we dodge potholes and people.
The Beach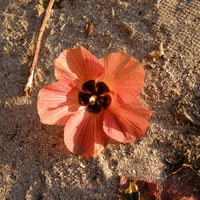 It's my first morning, after the long flight, the arrival in darkness, the short sleep. Jonathan's going to check out the waves, so I hop on the scooter behind him and we're off.
It's beautiful. Sand stretching for miles. People setting up umbrellas. It's warm. At once we're greeted by Keti, who offers to paint my nails and massage me top to toe. I brought only a few dollars to the beach. Soon I'm set up with my own umbrella, a cold bottle of water, and a foot massage in the offing. My purse is empty.
Jonathan heads into the surf. Keti chats as she massages my feet and legs. I feel self-conscious but happy. I feel pleased and generous. I watch tourists come and go, the heat is building and I sweat. I take photographs and graciously refuse offers of sunglasses, tattoos, paintings, bangles. I watch the waves wash in line after line of plastic. The umbrella vendors sweep and rake this into piles. After two hours I am weary and wilting. I'm glad when Jonathan resurfaces and takes me home.
Sunsets are the best time. They remind me of Darwin's Mindil beach, with bigger throngs. There are thousands of Indonesian as well as Western tourists. Children frolic in the water. The sea is silver, gold, pink, turquoise. Dusk softens and then hides the litter and peace descends as the hawkers go home.
But I tire of the endless vending, the people grabbing me and almost sitting on my lap, trying to wear me down until I buy something or submit to a massage I do not want. Walks alone on the beach are exhausting so I don't. I stop feeling generous. I feel harrassed and dehumanised. I am tired of smiling and being polite. I am not a walking wallet.
With Jonathan the beach is easier. I love the little things. The fallen hibiscus flowers. The old dog snoozing on the same warm sand spot every evening. The weathering statue of the penguin-dolphin. Electric blue whizzers falling through the dark. Most of all the heavenly tropical night air.
Shells & Surf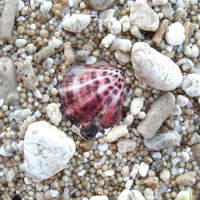 Bali draws surfers by the hundreds of thousands. The equatorial ocean is warm to the skin all year, and from seasoned hippies to kids learning the art, it offers exercise and entertainment at every level. The buffest bodies hang out at Uluwatu on the Bukit Peninsula. Jonathan chauffeurs us to these wonders of the surfing world on a day trip via Jimbaran Bay, where the paltry undertow scares me back onto dry land.
Uluwatu does not match the picture in my mind, which is of a long and wide white sand beach with massive pounding breakers. It's a sheer cliff. A pathway lined with cafés zigzags to the bottom where there's no visible sand, only coral, mostly covered by the tide. Surfers launch out through a cave opening. It's tricky getting back in through the cave afterwards. Coral injuries are common.
We relax at a cliffside warung admiring the line of dots along the rolling waves. Now and then a wave breaks translucent in the sunlight. The surfers look very far out on the deep sea.
Jonathan's special place is Padang Padang, a bay near Uluwatu. Here the cliffs circle a sandy cove. At night time there are fireflies, he says. Magic. He likes to stay in the cliffside cottages, basic, bamboo, brilliant views.
I search for shells, and find lumps of washed up coral, faded scarlet and steel blue. I notice tiny spheres of sand at the water's edge, like hundreds and thousands. I find a deep purple cowrie.
The sun goes down, and we soak in peaceful twilight, huge clouds on the horizon. Hungry, we climb the steep stairs that lead back through a stony cleft to the road and our car. I sit once more on the broken spring. Jonathan drives us to the Uluwatu Café. It's tranquil, with enigmatic paintings on the pavilion walls and buddhas in the garden. My head throbs from heat and exhaustion, but a plate of crisp spring rolls helps, and cold juice. We finish with the café's famous apple pie. Homeward bound, a storm breaks and we splash through puddles on the shiny roads.
Art & Architecture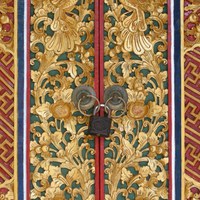 The Balinese seem to live and breathe art, which permeates the objects and spaces of daily living. I love this aspect of my stay, in particular the experiences of beautiful living spaces. The bathrooms are often exquisite sanctuaries with living plants and cool stonework. The use of marble, thatch, wood, terracotta tiles and greenery to fuse domestic and organic, indoors and outdoors, delights me and allows a sense of freedom I find absent in Tasmanian dwellings which need to shut out the elements. In Bali, tropical housing has been perfected.
I realise how my own home is coloured by Balinese wares: not only my sarongs and scarves, but lampshades, carved mirrors, mother-of-pearl dishes and lotus candles. Wooden spice chests and our enormous daybed scattered with bright dragonfly cushions. Bali infiltrated my consciousness long before I was aware. The brilliance, vitality and openness of colour and style call to my own love of the vivid and happy.
We visit the Garuda Wisnu Kencana Cultural Park, vast in scope as Inca monuments. The vaulting bronze Wisnu and Garuda gods rise above beautiful water gardens. Wisnu has yet to receive his arms, which we spy disembodied in a neighbouring valley.
The Bali Shell Museum shines with mother-of-pearl artefacts, giant fossil ammonites gleaming like crystalline amber, and thousands upon thousands of shells.
From sparkling windchimes to acres of stone carvings, intricate silverwork, shrines dressed in tasselled parasols and the ubiquitous and glorious fabrics – beauty is everywhere. Often tattered and crumbling, but evident. Sometimes difficult to access, which saddens and frustrates me. Browsing markets and shops can be an ordeal, and I wish it easier to stop along village roadsides to admire bed canopies, or buddhas necklaced with marigolds.
I buy an exquisitely painted canvas from artists in a Seminyak studio. A white lotus. I am inspired.
Escape to Sanur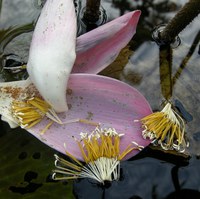 After several days in the chaos of Kuta, we escape to quieter realms to the coastal town of Sanur, east of Denpasar and a beautiful beach resort.
The shuttle bus is cheap but I breathe traffic fumes all the way. It's a relief to arrive at Kesumasari cottages right on the beach. Our triple room boasts a magnificent (triple?) bed with a crack down the centre where I imagine I will become wedged in the night.
The beach is cleaner and quieter than Kuta, with a long esplanade running north and south. This we traverse by foot, scouting for seaside restaurants (we eat mahi mahi by candlelight under the trees). The renowned gardens of the Bali Hyatt are indeed beautiful: lotus pools, palms and ferns, hung with woven floral decorations and lamplit at dusk.
On Sunday morning, thinking of a quiet stroll before breakfast, we find scooters and people gathering in hundreds on the beachfront. It's a festival day, the celebration of knowledge, and everyone is out to make offerings and frolic in the sea.
And it's Easter. Bali-style, with chocolate garudas at breakfast.
Cycling the bay is tempting. The sea is mirror-still with mighty Gunung Agung rising among distant clouds. But dodging hundreds of marketgoers and wrestling with feeble brakes detracts from this tranquil beauty, and after nearly killing an elderly gentleman (from the rear, so fortunately he was oblivious) I am on the point of collapse. I revive with icy fruit juice and the longest roast mielie I've ever eaten.
The boats of Sanur I adore, first for their vivid primary coloured stripes, and then for the faces I find painted on the bows. They remind me of bedtime stories of Ping, the duckling on the Yangtze river. The boats in those drawings had eyes.
T-House Tranquillity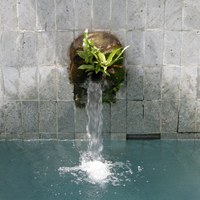 The Bali T-House community sits on the verge of rice fields in Lotundh village near Ubud. Each house is built to an individual eco-friendly design using thatch, stone, and termite-resistant ironwood. The dwellings conduct the natural flow of air and interface effortlessly with the garden, which is lush with foliage and edible plants – prickly jackfruit, spiky pandan, coconuts and bananas. Ginger flowers blaze from the green in crimson spikes.
The T-House follows Balinese village custom with its north-south (kaja-klod) orientation. We stay two nights in Lapsang Sushong cottage, behind the turquoise pool in Kaja.
The release from noise and traffic is immediate. We dip in the cool blue waters and watch with delight ducks, dogs, butterflies and children in the adjoining paddy field. Our cottage is two-storey with a semi-outdoor bathroom and kitchen. Upstairs is open all round to the air and the view, our bed draped with a soft net canopy. Gazing up into the thatch reminds me of my beloved African rondavels. It's bliss to lie unclothed in the warmth and see the netting shift gently in the breeze. That night frogs sing in thousands, gamelan music drifts across the fields, and we watch fireflies from our treehouse nest.
The T-House is an oasis, a breath in time. It holds us briefly in beauty and peace. We play in the hammock, read books on Balinese birds and architecture, savour food cooked in our kitchen for us by the lovely staff. Green pancakes with fresh pandan from the garden! A villager scales a tall palm and releases huge green coconuts that land with such alarming force I vow never to stand under a fruiting coconut tree.
We book two more days at a cottage in Klod. A small bridge leads to the doorway, with meditating buddha and drooping heliconia. Pete's room is gold, mine green. I shower among bamboo greenery; a tiny brown frog hops along the tiles. At night the frog chorus is deafening. It sounds like a herd of sheep and makes us laugh. Fat lizards scurry in the kitchen.
Ubud
Ubud is proclaimed the artistic centre of Bali, a grouping of villages set in the cooler inland hills. We pick the gracious Honeymoon Guesthouse for our stay in Ubud centre, famous for its owners' Casa Luna restaurants and cooking school.
The hotel staff greet us with iced hibiscus cordial. Frangipanis nestle about our room and four-poster bed. Cool marble and warm wood, wide eaves and thatched roof. I fall in love with the magnificent porcupig at the guesthouse entrance. At night frogs and geckos peep from the adjacent green stretch of land. Surprisingly, some allotments are not yet built up, and small paddy fields sit oddly among clusters of housing and hotels.
With business in Ubud booming since the recent film Eat Pray Love, we buy a second hand copy of the book. The current joke is 'Eat Pay Leave' and with the town infrastructure falling about its own ears, there's a sore truth in it. Slabs of loose pavement teeter over cavernous drains, and potholes vie with traffic for dominance of the narrow streets.
We bargain for clothes at the crowded market and watch artists paint intricate batik in the art history museum. We taste purple mangosteen and jackfruit curry. We grow weary of the constant calls of 'taksi! taksi!'. I am sad to see a woman begging in the gutter.
Tropical rain ushers in dinner at Miro's garden restaurant. Miro's lines each stone stair with frangipanis, and does our table proud. Candlelight and flowers adorn our feast. I avert my eyes carefully from my brother's platter of frogs' legs as I eat curried chicken with avocado and brown rice.
In the mornings we breakfast on green pancakes stuffed with banana and garnished with grated fresh coconut and palm sugar syrup. The we join yoga classes in a high room of the guesthouse, with views of sky, clouds and rooftops.
I cannot fit the porcupig in my luggage.
Bali Baik Bike
Bali Baik Bike tours give us one of our best days on the island. Baik means 'good' or 'fine' so the name is a pun.
Our guides collect us in a clean airconditioned bus (bliss!). We travel north of Ubud through rice fields, over deep gorges and up rainforested hillsides. The intense greenery energises and delights.
Our first pitstop at a kopi (coffee) plantation means tasters of Bali ginger and lemongrass teas, hot chocolate, and of course the famous kopi which is hand-roasted over an open fire. Among the coffee trees grow cocoa with fat yellow pods, and tamarillo with juicy crimson fruits. The undergrowth mixes herbs and spices: turmeric and ginger, lemongrass spikes and pink cardamom flowers. Cages house lewak, the mongoose-like animal that eats coffee beans to produce the prized and highly priced lewak kopi. The lewak lie curled and sleeping, heads tucked under furry tails.
Breakfast to fuel our ride is at Kintimani village high in the mountains overlooking Lake Batur and dormant volcanic cones. Then we coast down quiet back roads through villages and farmland. Children wave and reach to touch hands as we pass. Flocks of ducks waddle and wallow in the muddy fields. Flags flutter from thatched temple towers.
Our guides take us into the rice fields where people thresh and husk the crop. We walk along the grassy banks between watery paddies and quacking ducks. The labourers are dressed in heavy clothing to protect from the sun. It's hot and heavy work.
The breeze from riding refreshes, but the stops are stifling – sweat pours down my neck and back. With relief we end our exertions in a green meadow with iced handtowels and water.
Then the traditional feast, held in Wayan's family compound. High walls protect a shaded grassy courtyard edged with graceful heliconia. Roosters scuffle under baskets, birds sing in hanging cages. The dining pavilion is hung with Balinese artwork. It's a hidden oasis and a special glimpse into Balinese private life.
Food & Feasts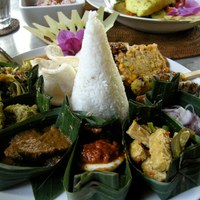 I leave Bali with the spiced tang of its glorious food still in my nostrils. I hanker for nasi bakar, the grilled rice package with its coconut, chicken and lime soup; roast pite, bright green beans popping from the pod. I cook chilli eggs and try to reproduce the chilli tempe with peanuts that burnt my lips in Kuta.
Except for our breakfast muesli (imported by me), we eat out. Local food is cheap and delicious, and Jonathan knows all the best warungs around Kuta-Legian. Our favourite is Roy's place with its joyous staff and fragrant nasi uduk dengam ayam bakar (coconut rice with grilled chicken) served in banana leaves with tempe, tahu (tofu), chilli and peanut sauce. My Indonesian vocabulary improves marvellously from reading so many menus.
From nasi campur, the Balinese equivalent of a smorgasbord, to beach stalls selling roast mielies and satay sticks, our stay is one continuous feast. We drink fruit juice after fruit juice: dragonfruit, strawberry, mangga, guava, watermelon – even avocado. Fresh young coconut juice from the husk, with lime and gula (sugar). Pisang goreng (fried bananas) and green pancakes for dessert. Always a tusuk gigi (toothpick) to finish.
Jonathan wants babi guling but I eye signposts of pigs on spits with dubious caution. There's plenty else: beef rendang, fish curry, gado gado, noodles, kang-kung (water spinach) and rice, rice, rice. After a week of rice I am a rice-stuffed tube and need to ease off the white matter.
After our bike tour, Wayan's family serve up a magnificent feast. The specialty: bebek betutu – smoked duck. Happy bebek from the rice paddies. We finish with rambutan and snake fruit.
The supermarket is a cultural eye-opener of a different sort: cheese brownies, bunny bread rolls, and Tim Tams. From the sublime to the ridiculous.
And Bali offers international cuisines: you want sushi, steak, enchiladas or frogs' legs, you'll find it. Even screamblle eggs.
Medewi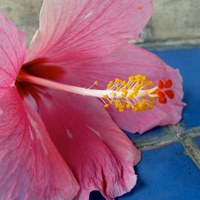 Halfway up the west coast, Medewi is a surfing mecca for those in the know. For a non-surfer like me it seems a step down from Uluwatu in terms of potential body damage: here surfers are dashed onto smooth boulders instead of sharp coral!
We hire a car in Legian, this time with aircon, no visible seat-springs, and a boot for the surfboard. It doesn't start. Bali time… sigh… enthusiastic but ineffectual helpers… finally a new battery and we lurch down Bene Sari between potholes and pedestrians.
The 75km trip takes three hours, dodgem-style. Dewi, our patient friend and self-appointed guide, rides ahead on her scooter from Kuta to Medewi so we don't get lost. The narrow roads are heavy with trucks: all sea-imports from Java travel to Denpasar along this route. Some of the bitumen has neat squares missing: night thieves acquiring paving for their own roadways? Road upkeep is not government-funded, so condition varies according to the wealth (or ingenuity) of the local populace.
At Medewi point, a cul-de-sac with grazing sapi (the pretty Balinese cows), a couple of modest guesthouses overlook the waves. I book us a luxury room at Medewi Beach Cottages: aircon, hot shower, blue pool in the tropical gardens. Jonathan needs his surf but I thirst for that pool! I place frangipanis behind the ears of our cottage's twin guardian statues.
Dewi spoils us with local cuisine at her nearby restaurant. I love the turong pelecing (chilli eggplant) and Jonny takes to the local fowl – superfit flavoursome freerange fowl who'd done too much running for my jaws. Dewi and another friend, I-In, escort us to an impressive seaside temple with views up the black sand coast.
Jonathan tests the Medewi waves and thanks to the mega-lenses of local businessmen at the shoreline, we finally have photographic evidence of his prowess. Mum will be happy!
I soak up my last Bali sunshine and float in the warm blue pool watching palm fronds shift against the sky.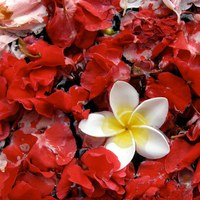 Merridy grew up in Southern Africa and now lives in Hobart, Tasmania, which is too cold for her African blood. She escapes regularly to northern climes, but this was her first trip to Asia.
Jonathan left Tasmania ages ago in search of warmth, which he has now pursued as far as the equator. This makes surfing much easier. Thank you for my birthday plane ticket, Jonathan. Without it, I would not have spent a weekend in a treehouse. And you and I would never have slept in the same bed with a surfboard between us.