Lipstick & Ochre
Reviewed for the Northern Territory Writers Centre Newsletter, 2008.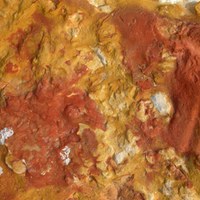 Crosslegged, Yawalyu women chant centre stage, painting bare skin lovingly in patterns of ochre. Behind, crimson drapes back rows of lit mirrors. Women in silk gowns perch on high stools, choosing earrings, combing, plucking, grooming. Ceremonial preparation: the application of make-up, the donning of garments. Universal rituals differently expressed.
The contrasts in this opening scene set the tone for Lipstick & Ochre, a collaborative dance production celebrating wisdom, maturity, movement and cultural exchange in a joyful and at times hilarious enactment. The patchwork of settings and themes is colourfully evocative: city and desert, lawnbowls and breakdance, clapsticks and Frank Sinatra. And of course, lipstick and ochre. The startling fact is that nearly all the dancers are in their senior years, a vivid statement that age is no barrier to public performance.
Tracks Dance, the premier performing arts company in the Northern Territory, is known for large outdoor works spanning diverse cultures and artistic disciplines. For this year's Darwin Festival, Tracks reunites two much-loved groups of older Territorians: the Grey Panthers and the Yawalyu Dancers. Both have featured in Tracks productions over two decades.
Darwin's popular Grey Panthers are a troupe of women mostly aged 60 plus, who write, dance, sing, march, act – and ride pillion on Harley-Davidsons in street parades. Their charm, energy and humour is infectious, and between them they boast more than a few centuries' experience!
In contrast, the Yawalyu Ceremonial Dancers of Lajamanu are based 1000km distant in the Tanami Desert. They offer a glimpse into a spiritually rich culture that is still very much alive. Yawalyu means 'women's rituals'. Each woman in this group is also a major painter. Mothers, grandmothers and great-grandmothers, they embody the wisdom of the elders.
Lipstick & Ochre's hypnotic opening gives way to an explosion of sound and life as dusk fades into darkness. Local comic Gail Evans is the Kath-and-Kim-style MC, or Dr Irina Haas dressed to kill in red heels that strut past at eye level. Nationally renowned Trevor Patrick doubles as leopardskin-clad Strong Man and Miss Olive Pink. Guest artists Gerard Japanangka Scobie and Caleb Japanangka Patrick display hip-hop/breakdance gymnastics. Add stomping Yawalyu dances, happy pom-pom girls, and a strong dash of slapstick – the fun doesn't stop.
There's an enjoyable excerpt from former Tracks hit A Bowls' Club Wedding. Audience members unfamiliar with this show are at first nonplussed by apparent bowling enthusiasts recruiting at interval for the 'Mindil Monitors' and 'Top End Terrors'. 'Where are you based?' someone asks, and on hearing 'Palmerston', politely declines as it's 'a little too far'. Others want 'one of those hats' (depending on your loyalties, a white sunhat crowned with a lizard or wound with a snake). All becomes clear as the bowlers mount the stage…
Another flashback is from Tracks creation Fierce – The Story of Olive Pink. The outdoor setting is perfect: bat screams in the overhanging trees add authenticity to bush scenes depicting Olive Pink's historic encounter with Indigenous Australians. Red-gold lighting evokes firelight and traditional ceremony. Trevor Patrick brilliantly renders an exhausted Olive, near collapse in the desert. Yawalyu women play the original tribespeople. The meeting of cultures is both funny and poignant.
The grand finale sees the entire cast on stage, Grey Panthers in shimmering purple, Yawalyu dancers in glittering black. The audience cheers and hoots with gusto.
Lipstick & Ochre is a celebration of imperfection, and leaves an aura of good feelings in its wake. Including so many performers is a positive declaration in itself – this is a community-oriented production after all – but the downside of moving large numbers of dancers around the stage is less exciting choreography. It will be interesting to see how future Tracks' productions meet the challenge of balancing community participation with artistic excellence.